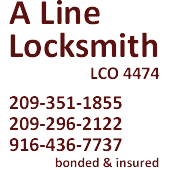 Key Replacement
Do you need replacement car keys?
Whether you have lost your only key or just need a spare, we are able to offer a fully mobile replacement car key service in Amador County, Calaveras County, Sacramento, Galt, Lodi, Stockton, Folsom, El Dorado, Shingle Springs. We are also able to repair broken automobile keys and replace lost automobile transponder chips.
Lost your only key and don't know what to do?
We can still produce replacement vehicle keys even when you have no keys at all! That's right, even without the red master key! Some car manufacturers supply key number and immobilizer security codes which simplifies the process of replacing lost car keys. Car keys are our specialty and we are still able to produce new car keys even without this information. Our car key replacement service is available to the general public and motor trade.
How do we produce your replacement car keys?
We carry key blanks and transponder chips for most makes of vehicle, and our mobile vans are fully equipped with all the required machinery to cut your replacement car keys while you wait.
Need a spare car key?
If you only have one key for your car we are able to produce duplicate keys. Depending on the type of transponder chip used we may able to make a direct copy of your coded car key. This type of car key replacement is produced utilizing sophisticated equipment to copy the code onto a new transponder chip. Most new cars however, use an encrypted chip which cannot be copied. In this instance we are able to produce a new key and code it directly to your vehicle using diagnostic tools.
Have you just bought a car with only one key?
If you are considering buying or have just bought a new car that was sold with just one key, call us now to arrange for us to visit you and produce a duplicate.
A Line Locksmith services the following list of cars:
Range Rover, Renault, Rover
SAAB, Skoda, Subaru, Suzuki
We are car key specialists and offer competitive pricing for replacement car keys.
FEATURED INFORMATION (NEWS, EVENTS)
KCRA Channel 3 had a returning story of locksmith scams, showing how people get ripped off so easily.
Find your locksmith now before you need one. Do your research for at least two locksmiths in your area that have good ratings and social media reviews and bookmark them...
209-351-1855 m | 209-296-2122 o | 916-436-7737 m